---
Vicci's B'day Dinner Review - cjs - 05-11-2009

Primavera with Seared Seafood (Issue 63)
Rosemary Olive Oil Boule (Issue 70)
Butter Lettuce Salad with Lemon-Garlic Vinaigrette (no recipe!)
Lemon Cheesecake Souffles with Crushed Raspberry Sauce (Issue 61)

Great choices for a spring b'day dinner, Vicci.
Primavera with Seared Seafood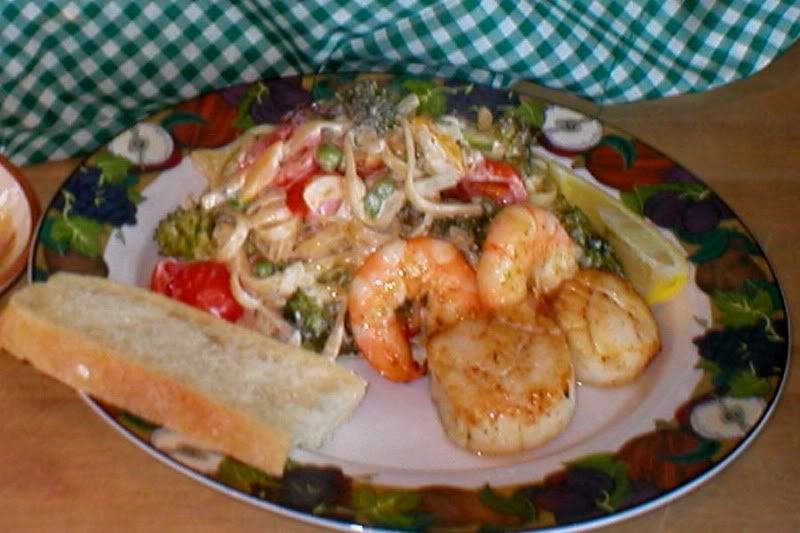 While we both enjoyed the flavors, this type of a pasta dish tends to become dry in the short time between finishing it and prepping the seafood. Love the method for the scallops and prawns (marinating in the oil, s&p and lemon zest) – will do that again. We gave this an 8

Now, the Rosemary Boule is another story - my goodness what a wonderful crust this method gives bread. I wanted to make the whole meal out of just this!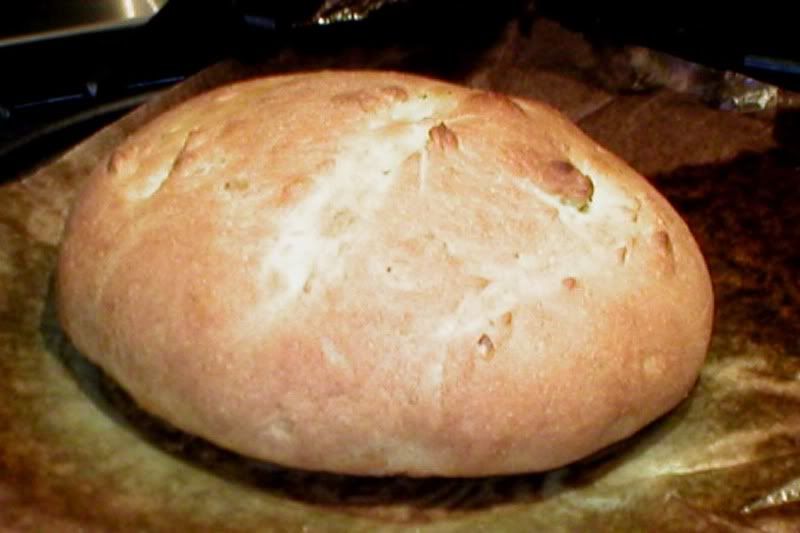 We gave it a 10!

The dessert – didn't make the dessert, with Mom's day and b'day, I'm trying to be as good as I can. (split Tiramisu at Brunch yesterday...
)

PJ????? Are you too busy right now to suggest a dinner for your b'day??


---
Re: Vicci's B'day Dinner Review - farnfam - 05-11-2009

OH yum,yum we thought this was soooo good, possibly the first total 9! Perfect combo of spring veggies too. Must be I was sloppy in my measuring and over did, cuz it did not dry out (but I agree this kind of dish tends too) We loved it. Loved the method too.
The bread was excellent too! Now it will be hard to decide between this and 18hr bread.


---
Re: Vicci's B'day Dinner Review - cjs - 05-11-2009

"Now it will be hard to decide between this and 18hr bread." - exactly what we were thinking!


---
Re: Vicci's B'day Dinner Review - foodfiend - 05-11-2009

Hey, I'm only on my third cup of coffee and I'm finding reviews of my birthday dinner!


I have to get my notes in order and post mine. Must think, now...

And here is Maryann's review. I think that it's incredible that she took the time to make the primavera on the night before they left on their cruise. Before we go on vacation, the last two or three days are a melange of refrigerator-clearing-out leftovers!




Primavera with Seared Seafood



I was so anxious to try this dish that I went to the store for the last minute missing items and made it this afternoon, in between all the chaos and packing. It was so worth it. This is such an easy dish to make, yet it looks and tastes like something you would order in a nice restaurant. It could easily be doubled or tripled and would be a great dish to make for company.

I love what a pretty presentation it makes and we will definately be making this one again, although probably will save it for special occasions, as it's pretty rich and very delicious! We give it a 9+. Great choice Vicci!

Maryann


---
Re: Vicci's B'day Dinner Review - foodfiend - 05-11-2009

I've always prepared primavera with a cream (actually, in more recent years, lowfat half & half)-based sauce and this recipe, which uses melted goat cheese, gave me a delicious new variation on one of our favorite pasta dishes. Although the sauce does contain more fat, I am more than willing to make it again!

I hadn't expected the recipe to be

this

good. One of my favorite flavor combinations is goat cheese and lemon, but I don't use it often because Jack does not like goat cheese at all. This time, I decided that I would go ahead and make the recipe as directed for me, and I would use neufatchel cheese to replace the goat cheese in his serving. It was more difficult in preparation to do this, but he raved over his and I was more than delighted with mine, so it was well worth the extra trouble.

Since this was my birthday dinner, I doubled the seafood in the recipe. Bad, bad Vicci!


I also decreased the goat cheese to one ounce for my portion. Goat cheese is such a strong flavor that I think that the ¾ ounce which I omitted may possibly have made it more dominant than I would have liked. I did not have broccoli (although I thought that I had broccoli…) so fortunately there was enough asparagus in the garden to double that quantity.

One procedural note. When I make pasta dishes, I like to slice the vegetables in similar shapes to the shape of the pasta. So instead of dicing the bell pepper and onion, I used strips (slicing the onion vertically).

This was absolutely delicious. Jack said that he couldn't imagine getting a better meal in a "fancy-pants restaurant", and I agree!





The boulé was a big, huge hit as well. What a nice texture, and the rosemary flavor went so well with the flavors in the pasta. I made two.


I didn't have enough bibb lettuce for the salad, so I added some romaine and some baby mesculen blend from the garden. I also added some little violas for color and they looked so cute that I didn't want to eat them (but I did!). The dressing was a mix of olive oil, lemon, honey, Dijon, garlic, and s&p.




Alas, dessert fell by the wayside although I really do plan on making it this evening. I will post then.


p.s.--I posted a couple of outer "views" of the primavera on my blog today.




---
Re: Vicci's B'day Dinner Review - cjs - 05-11-2009

Overall, really good choice for the dinner, Vicci! Sorry I jumped the gun this a.m. - but I did well keeping the mouth closed as long as I did.
---
Re: Vicci's B'day Dinner Review - Gourmet_Mom - 05-11-2009

Oh, this was soooo good! I will post my full review tomorrow...or later this week! I made a few changes but we loved it...more later. BTW...when I post my full review, don't laugh at the styro plate in the picture...LOL! I did good to put the meal together....will explain later....ROFLOL! What a GREAT DAY!!!!!!!!!


---