Ran across some beatiful chanterelles the other day at Central Market and thought of you. We had them last night with a couple other dishes I can't mention (until Nov. 10th
) and they were just great! From epicurious website.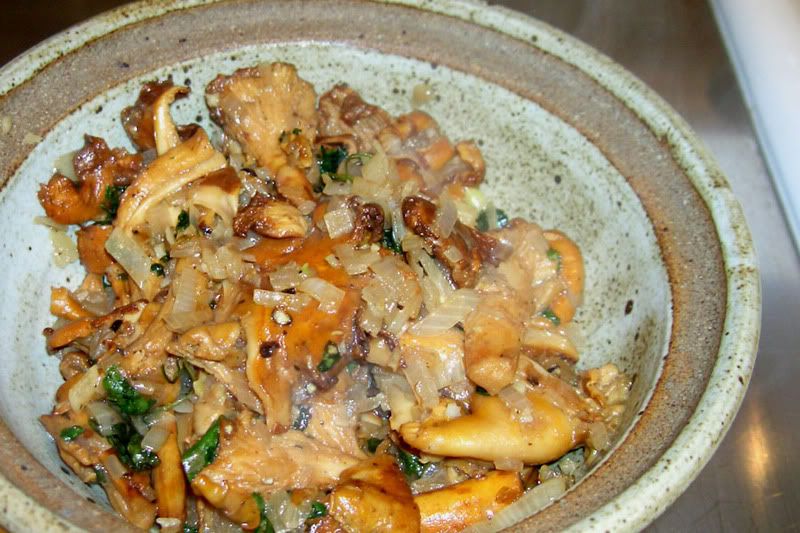 Chanterelle Fricassée
"Fricasse De Girolles This makes a wonderful side dish to poultry or seafood, or a lovely dish all on its own."
1 tablespoon goose fat or olive oil
1 shallot -- minced
1 clove garlic -- minced
1 pound wild or cultivated mushrooms -- trimmed and cleaned
Sea salt and freshly ground black pepper
1/2 cup flat leaf parsley leaves -- firmly packed
Heat the goose fat or olive oil with the shallot and the garlic in a large skillet over medium heat. When the shallot has turned translucent, after about 2 minutes, add the mushrooms and cook, shaking the pan frequently, until they give up most of their liquid.
Increase the heat to medium-high, season the mushrooms with salt and pepper and continue cooking and shaking the pan until most - but not all - of the liquid has evaporated. This will take about 8 minutes.
2. Mince the parsley and stir it into the mushrooms and continue cooking for an additional minute. Taste for seasoning, remove from the heat and serve immediately.
---
Simplicity at its best - especially with a Tobin James '06 Ballistic Zin
Retired and having fun writing cookbooks, tasting wine and sharing recipes with all my friends.
www.achefsjourney.com